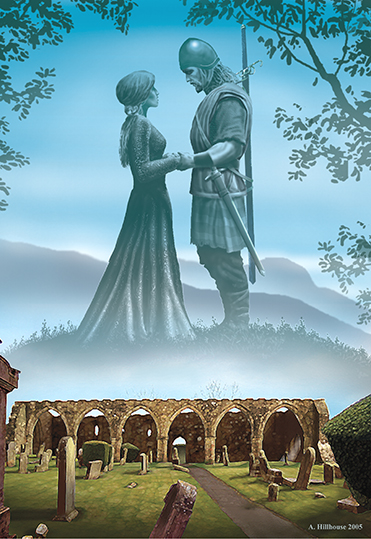 A romanticised image of William Wallace and, according to legend, his wife, Marian Braidfute. They are depicted above the ruins of St. Kentigern's Church, Lanark. Wallace would have frequented this church during his frequent visits to Lanark, for Marion Braidfute reputedly lived nearby in the High Steet. Most of the ruins date back to about 1180 but the structure was built on the site of a very much earlier church. The south aisle has a fine 12th century doorway which Wallace may well have passed through. Tradition has it that St Kentigern's is the church where Wallace married Marion. Even if this is only a legend it is extremely likely that William Wallace worshiped in this church. From sources such as Blind Harry and others, which cannot be regarded as completely reliable, the story of Wallace and Lanark emerges.
William Wallace came to the Clyde Forest after successfully ambushing the English at Loudon Hill, in July 1296. It is at this time that Wallace may have met, and fell in love with, Marion Braidfute, the 18 year old daughter of the laird of Lamington. The English Sheriff of Lanark, Heselrigg, had put to death her brother who had come with Marion to stay in their father's town house in Lanark. Wallace furtively began killing any unaccompanied English he would find in the nighted streets to avenge the wrongs heaped upon the Braidfute household.
Simultaneously, he secretly built up his forces in Lanark, while trying to avoid trouble initially. But he was forced into action by the taunts of English soldiers when he was leaving St Kentigern's Church one Sunday morning. At first their attempts did not provoke Wallace but when they mocked that one of the local priests had been sleeping with Marion, his temper snapped.
In the fight that followed, in which some of Wallace's men participated, fifty Englishmen were left either dead or severely wounded in the streets. The remainder, a considerable force, pressed Wallace to retreat to Marion's house. There they continued a losing fight and were eventually forced to retreat out of Lanark to the safety of the nearby Cartland Crags. Wallace and his men had managed to make their escape but Marion was not so lucky.
Heselrigg, furious at the humiliation of his men and at Wallace's escape, executed her immediately and burnt the house to the ground. When the news of Marion's murder reached Wallace, he was beside himself with grief. However he began planning his revenge on Lanark. The English garrison in the town became complacent, thinking that all Scottish rebels would have been terrified into submission. In May 1297 Wallace and his small force stole into Lanark at dead of night in groups of two or three. Foolishly the English had neglected to properly guard the walls of the town. Silently, Wallace and his followers crept through the darkness to the homes of Lanark's top English commanders. Their attack was devastating. Wallace himself slew Heselrigg and his son whilst his men assassinated other commanders of the garrison. Wallace and his band killed over two hundred and forty soldiers that night and the event is often credited as being the opening action of the Scottish Wars of Independence.