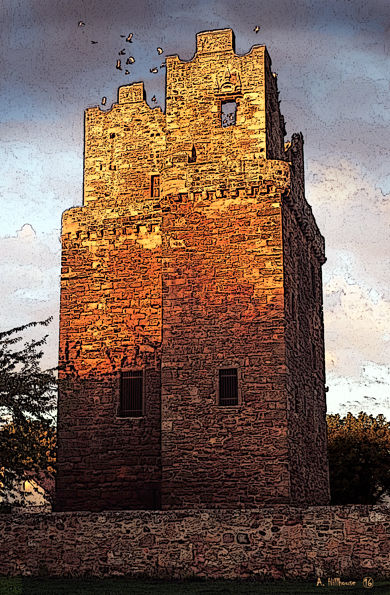 Preston Tower
Preston Tower is a ruined four storey L-shaped tower house in the ancient village of Prestonpans, East Lothian, Scotland. It is believed that parts of the original four storey structure may possibly date from the 14th century.
The Tower was built in the 1450's by the Hamilton family who gained the lands around Prestonpans from the Home family after helping King James ll in his struggle against the Black Douglases. It was solidly built with 2 metre thick walls. Its entrance was protected by a timber chamber located on the external wall above from which boulders, boiling oil or hot sand could be dropped onto attackers below. In 1544, during King Henry VIII's "Rough Wooing", the Earl of Hereford attacked the Tower. He smoked out the garrison by setting a fire by the doorway and having his men shoot at anyone trying to put out the flames.
The Hamiltons later rebuilt and extended the tower in 1626, adding a further two storeys above the parapet in a noticeably different architectural style to the existing lower storeys and utilising a markedly lighter stone. Gargoyles, fine mouldings and inscriptions bearing the initials SIDKH (Sir John and Dame Katherine Hamilton) can still be seen around the Rennaisance windows today.
The Hamiltons of Preston were a prosperous and powerful family. Sir Thomas Hamilton fought at the Battle of Dunbar in 1650 and at the Battle of Worcester. In retaliation Cromwell's men attacked Preston Tower in 1650 and burned it, along with his documents chest – his record of his family's most important papers. The Hamiltons were restored to their property and the tower in 1660
but it accidentally burned again in 1663 and the family finally abandoned it for good to live in the nearby Preston House. One of the Hamilton family was the noted covenanter Robert Hamilton, a commander in the battles of Drumclog and Bothwell Brig.
Preston Tower was purchased by the National Trust for Scotland in 1969 and is currently under the guardianship of East Lothian Council. It is also a place that captivated me as a youth. Growing up in Prestonpans, we used to play inside its imposing walls and dash around its parapet.