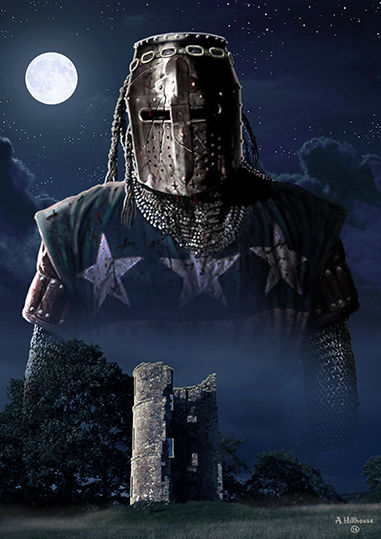 Douglas Castle

The spirit of the Black Douglas looms above Douglas Castle, south Lanarkshire, stronghold of the Douglas family from medieval times to the 20th century. The first castle, probably built of wood and stone in the 13th century, was destroyed and replaced several times until, in 1938, the 18th century mansion house that remained was demolished.
In the early 1300's, the castle was captured and recaptured by the English during the Scottish Wars of Independence. Sir James (the Good, or the Black) Douglas was forced to recapture his family seat repeatedly, both by guile and by force, until the castle was finally destroyed to deny the English succour. His exploits in retaking the stronghold at this period soon became legend, his most famous and brutal attack passing into history as the "Douglas Larder". After the Battle of Bannockburn, Robert the Bruce rewarded his outstanding bravery and loyalty by naming Sir James' heirs as Earls of Douglas and Douglas Castle was subsequently rebuilt as one of their strongholds.
By the 15th century, the power of the "Black" Douglases had come to threaten the Stewart monarchy until, in 1455, they were defeated at the battle of Arkinholm by the forces of James II. Douglas Castle was sacked and the family's lands and titles forfeited. The "Red" Douglases had sided with the king against the senior branch of their family and they gained the Douglas lands in Lanarkshire. It is likely that the castle was rebuilt at this time.
The castle was again rebuilt around 1703 as a tower house with an enclosed courtyard and a corner tower. This castle was destroyed by fire in 1755, with the exception of the corner tower.
In 1757, the Duke of Douglas began construction of an enormous castellated mansion on the site but he died soon after and only around half of the original design was ever completed. In the 1930s the mining of coal in the park adjacent to the castle was permitted in an attempt to relieve high levels of local unemployment. Unfortunately, the mining caused serious subsidence to the castle and it had to be demolished in 1938.
Today, only the ruined corner tower remains on a prominent rise in the valley to the south of the Douglas Water. It was retained as a garden folly when the later mansion was built. Below is a small cellar block with glazed tiles on the interior walls. Nothing remains of Sir James, the Black Douglas' stronghold, but his presence can still be felt in the locale and his name lives on in many countries.