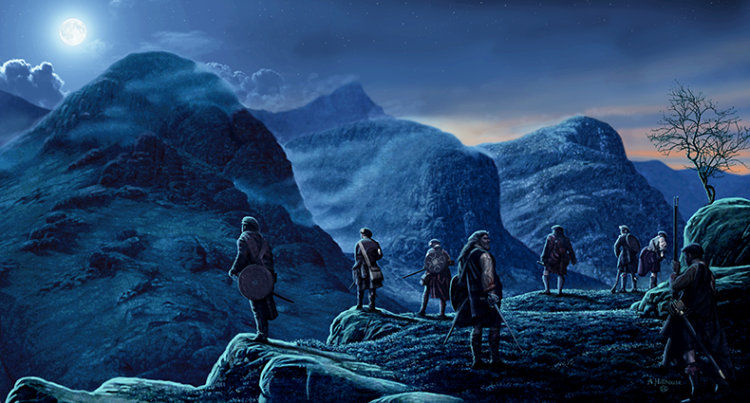 Return of the MacDonalds
Following the disaster of Culloden moor, a small group of war weary MacDonald clansmen finally make a wary return to their ancestral lands in and around the mountains of Glencoe, whilst keeping a watchful lookout for pursuing government patrols.
During the Jacobite rising of 1745 the majority of Clan Donald fought on the side of the Jacobites with three regiments from Clan Macdonald of Clanranald, Clan MacDonnell of Glengarry, Clan MacDonald of Keppoch and the Clan MacDonald of Glencoe fighting in all three major battles of the campaign. The slaughter at Culloden on 16th April 1746 brought the rebellion to savage and bloody end. The Jacobites had been completely routed and were forced to flee the field in disorder, leaving behind many dead and wounded clansmen. These unfortunate souls would later be massacred where they lay on the moor by British Government soldiers under orders from Prince William, the Duke of Cumberland.
As they fled the slaughter on the moorland, the MacDonalds would have been cut off by the Government cavalry and forced to retreat down the road to Inverness where they became a perfect target for Government dragoons who were in no mood to offer quarter. From Inverness, they continued south to Fort Augustus where they were joined by more Macdonalds and a small battalion of MacGregors who were eager to join the Cause. But, by 18th April orders were received from Prince Charles Edward Stuart that the rebellion was over. The Jacobite army was subsequently disbanded and "Bonnie Prince Charlie" went on the run in the vast mountain wilderness of the Highlands and Islands. Disconsolate clansmen, no doubt fearful of the future and wondering what had been the point of all their sacrifices, began to either head for home or attempted to escape abroad. Some ranking Jacobites made their way to Loch nan Uamh where they were uplifted by two French frigates.
As feared, the "Butcher of Culloden", the Duke of Cumberland, soon moved his soldiers into the Highlands to mete out the British Government's retribution. On 17th May, three battalions of regulars and eight Highland companies reoccupied Fort Augustus. The following week, punitive expeditions were launched into the Highlands which continued throughout the summer. The brutality and inhumane treatment meted out to the Highlanders during this period would become a permanent stain on the pages of British history and resulted in the Highland way of life being destroyed for all time.